Durable Medical Equipment (DME)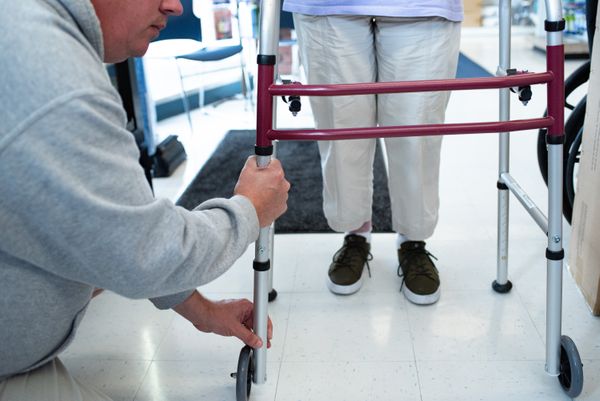 As we all grow older, it can become harder to use a lot of the everyday products. Whether it's because of a disability, arthritis or any other condition, if you or someone you love needs some help then we have the medical supplies that you need. These assisted living and long term care products are very affordable and practical solutions that will make their lives easier.
We have solutions for seniors and we offer a huge savings on hundreds of discounted bariatric medical equipment, home medical supplies, home health care products, handicap accessories and equipment, and we have solutions to help people to keep living their independent lives in their own homes and our medical supplies will help them to live life easier.
Our medical supplies are sorted into categories and sub-categories for your convenience.
If you are in need of any medical equipment or supplies or just have a question, ask a staff member today. Our staff will make it as easy as possible to get the equipment you need, including the billing. We will bill Medicare and most insurance companies.
Our medical equipment may include, but is not limited to:
Bariatric Medical Supplies and Equipment
Bathroom safety equipment

Variety of Shower Chairs
Bath Bars
Bedside Commode
Raised Toilet Seat

Wheel chairs
Walkers and Accessories
Canes and Accessories
Crutches
Selected Support Braces and Wraps
Medical Supplies and Equipment for Seniors
Basic First Aid Supplies
Specialty Wound Care Supplies and Equipment
Latex and Non Latex gloves
Compression Stockings and Sleeves
Hot and Cold Therapy
Diagnostic Equipment

Blood Pressure Cuff
Pulse Oxcimiter
Thermometer

Nebulizer Machine and Accessories

Nebulizer
Tubing
Cups
Mouthpiece
Home Health Care Supplies and Equipment
Incontinent Supplies

Briefs and Pads available in a variety of brands, styles and sizes.
Bed pads disposable and washable
Flushable Peri-Cloths or Wash
Ostomy Supplies

Bathroom Safety Equipments

Toilet Safety Frame

Variety of Shower Chairs

Grab Bars

Bath bars

Raised Toilet Seat

Bedside Commode

Catheters and Supplies
Sitz Bath
Bed Pan
Hospital Bed and Rails
Overbed Table
Handicap Accessories and Equipment
Canes and Accessories
Walkers and Accessories
Transport and Manual Wheel chairs
Braces/Wraps/Support Stabilizing Equip
Crutches
Cast covers
Walking Boots
Support Cushions
Reachers
Hoyer Lifts
Trapeze Bar
Lift chairs